The situation
Until last year, executive extraordinaire Simon* was pretty casual about money. He is a senior executive aged 52 with a large multi-national company focused on the resource sector earning $220,000 p.a. Simon has always been able to progress in his career and increase income. He told me his family struggled when he was growing up and he was determined to provide well for his family. After chatting for a while though, Simon opened up and expressed his frustration and feelings of being trapped on the mouse wheel of corporate life. "I can't stop or all the cards will fall."
Simon's wife, Laura 48, recently returned to her career in graphic design earning $80,000 p.a. She spent the last 10 years as the chief care giver for the children. When we explored what was important about money to Laura she was really clear. Laura's first priority was to see their children successful in life and complete university; secondly she wanted to spend more quality time with Simon and the children. This was important to Laura as they only had a few more years with the kids and then it would be only Simon and herself in the house.
Some further information on the family:
The teenage children are aged 16 & 14;
The family home is worth $700,000 with $325,000 owing on the mortgage;
Simon and Laura jointly have about $650,000 in super with only employer contributions. Investments are in a High Growth portfolio;
They also have 7,342 BHP shares valued at $220,000, fully paid with a cost base of $85,700;
They have two investment properties valued at $850,000 with $525,000 debt. The properties have capital gains of $80,000 combined. Rent is covering the debt;
Simon would like to upgrade their home and he estimates they will require $1 million for the house;
Laura has very strong feelings about providing their children with full support for university costs of $25,000 p.a. for 3 years each per child;
Simon has indicated that he would like to retire at age 60, debt free with an annual income of $75,000. He has no idea how much money he will require;
Simon has income protection insurance for 75% of his $140,000 p.a. salary, which has not been reviewed for 4 years. He also has Death and TPD insurance of $800,000. Laura has no insurances. They have no trauma insurance;
Their wills were established in 1998;
They have indicated that their annual budget is $95,000. However, there is no evidence of savings or major debt reduction over the past 4 years. They do have some nice toys though….
What they wanted to know was:
Were they on track financially compared to where they needed to be?
What impact would the house upgrade have on their other goals?
What is their number to secure their retirement income for life?
How will they fund the children's education commencing in two years' time for the eldest?
Simon commented that financial security was important for the family particularly if something happened to him.
As you can see Simon and Laura have no real idea where they are going or how they will get there. If they continue to do the same things they can only expect the same outcome.
This is where the planning begins.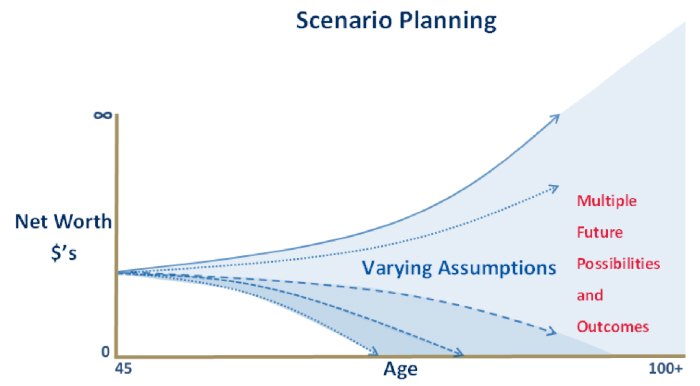 *Names have been changed to protect the individual's identity.