Are you a business owner?
Being a business owner or business professional brings with it responsibilities and demands at all levels, from home to work and community. Sometimes you are so busy looking after everyone else, that important things like planning your personal future financial security or developing business financial growth strategies are pushed to the bottom of the list. At Alman Partners we can help you make those important decisions. We specialise in working with business owners and professionals who generally have complex needs. Our approach is centred on taking the time to get to know and understand your particular situation.
Time Poor
While the principles of personal planning apply to all people, we also understand business owners and professionals encounter unique issues. One thing we know for sure is this, most are time poor. We are all subject to the immutable law of 168 which means we only have 168 hours per week. 56 of those hours are spent sleeping; 50 – 60 hours are generally spent working; that only leaves up to 62 hours per week to allocate to your family, relationships, sport, health and fitness, finances, study and for your quality of life.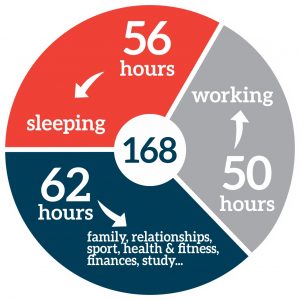 Your quality of life is a function of how you choose to spend these precious hours. I don't know about you, but spending 3 hours late at night researching the latest speculative mining stock is not likely to add to your qualify of life, nor bank balance for that matter.
The key is to spend your valuable time wisely, and delegate the things that can be delegated to trusted professionals.
Delegate to trusted professionals
As your strategic financial advisers, we not only provide you with "World Class Investment Solutions" we ensure all of your trusted advisers are on the same page. Every decision you make in key areas of your business has the potential to impact on another. Therefore we regularly work side by side with all our client's key advisers. We can also introduce experts into your trusted team if you require.
Our ultimate aims
At Alman Partners we are here to help you make smart financial decisions, in line with the things that matter most to you in your life.
How we work
Generally the majority of our clients are referred to our firm from either one of our existing clients, family friends, business associates or aligned professionals. To give you the best tailored advice possible, we have developed a process that will involve you in every step and help you understand why we make the recommendations we do, while respecting your valuable time.
We get to know you and understand your situation.